Small-scale additions in nature
Final exam project Willem de Kooning Academy, May 2001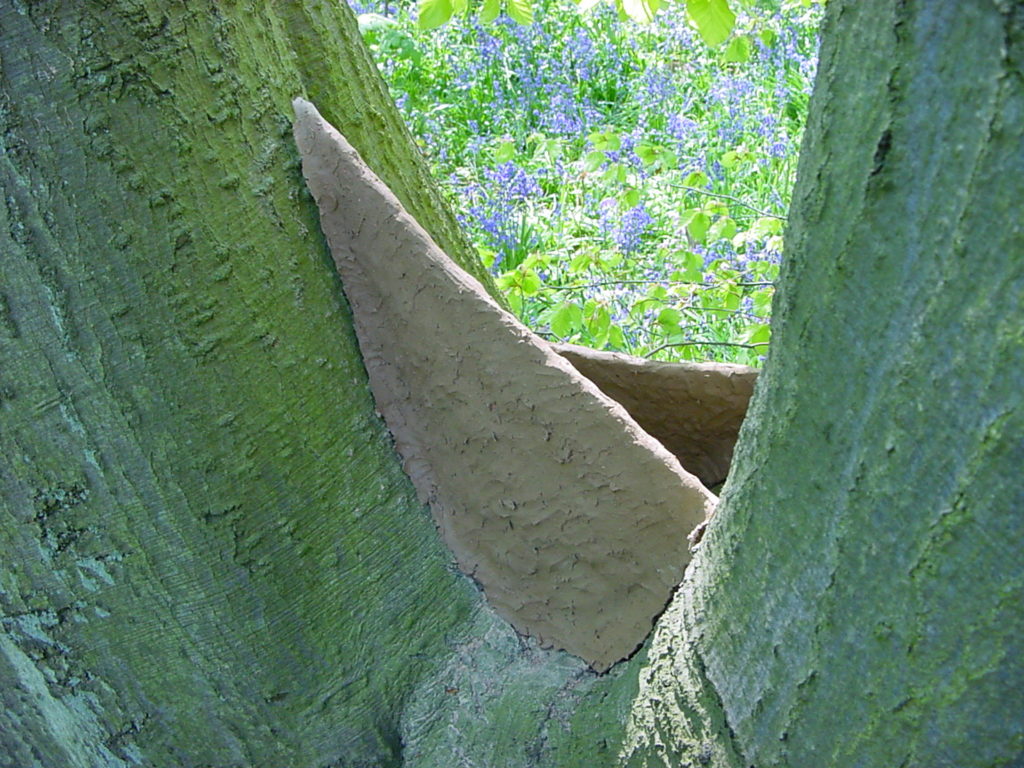 Sorghvliet Park in The Hague showed a series of sculptures made from material that is immediately available in the park: branches, earth, leaves, tree-bark and feathers. Clay has also been used. Circumstances such as place, weather, time and season play an important role in the creation and are part of the perception of the work.
"Traditional statues" in parks often stand as isolated objects in the green space. They make use of the park as a background without really establishing a relationship with the surroundings. These sculptures in Sorghvliet Park form a reaction to the surroundings, in which they have been included as an addition. They are only visible to the observant passers-by, and sharpen their perception.
They are sculptures intended for that one place, made from material from the surrounding area. What is striking about the work is its vulnerability and thus its transience. Sculptures that are constantly in motion due to external influences; wind, rain, sun, a passer-by who changes something or overturns it unseen. The work is subtle and usually small in size and it hardly differs from its environment, in which it will dissolve again.
A minor intervention changes the existing situation. A piece of culture is created in nature. The difference between something made by human hands and something that has grown. The work irrevocably raises questions when the passer-by sees it.
Creation of the sculptures
Wherever I look around me I see cracks and crannies. I have an irrepressible urge to make that space visible, e.g. by filling it. It is behaviour reminiscent of graffiti, when you also create something of which you know it will only be seen by few and will soon disappear again.
While I am walking around I observe the space and collect and drag the material away. I look for contrasts in colour, texture and the expression of the material, and decide what form is needed in that particular environment.
Touch
I want to touch, feel, smell everything. Kneading it with my hands and attaching the rolls of clay to a sculpture, rolling up the leaves to close a crack, feeling the feathers that I take from the snowy sandy ground.
A connection with a certain place arises through observation; watching, tasting, smelling, feeling and following a movement. By adding something to that place, images are created, in which the touch often remains visible in the form of prints of fingers and hands. Every touch is proof of my own existence. You explore what you touch and thus it becomes part of yourself. A shape that I build from clay and earth is changed in my hands into the shape I want to create; thus it becomes part of me. The print becomes a visible reminder of the touch.
The motto of this project
In Sorghvliet Park there is a hill called Parnassusberg. This is the mountain where Apollo stayed with the 9 muses who each protected their own art or science and inspired the artists. On Apollo's temple in Delphi, the maxims "Know thyself" and "Nothing in Excess" were written. I have used these aphorisms as a motto for my work in the park.
Conservation
The work has no eternal value; in fact, some works last only a couple of hours. The process of decay is closely connected to the work. What remains of the work is the memory and documentation in the form of sketches, words, photographs and film material.
Acknowledgement
With special thanks to my teacher of sculpture Leo Vroegindewei of the Willem de Kooning Academy and supervisor Erik Evers of Sorghvliet Park in The Hague.